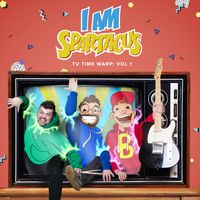 Remember the crazy 80's and nostalgic 90's cartoon classics? Of course you do! You'd race home from school, toss your denim backpack and Lisa Frank binder to the side, crack open a Sqeeze It, and tune in just in time to sing along to another hair raising adventure with Huey, Dewy and Louie in Ducktales! 
"They don't make 'em like they used to..." I Am Spartacus is on a quest to put a twinkle in your eye and a reminiscent smile on your face as you listen to 5 of the most popular TV theme songs from the greatest era in animation history.   
Saturday morning cartoons are back with TV Time Warp: Vol 1! We couldn't just announce that we had a new EP coming out without sharing a song from it too! Starting TOMORROW and every #throwbackthursday until June 30th, we'll be releasing a new video featuring each of the songs. If it brings back some memories for you, SHARE everything TV Time Warp!