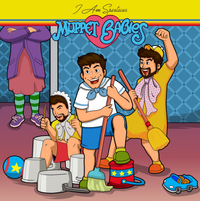 In the spirit of our new EP, "TV Time Warp: Vol 1", and the song/video we released last Thursday of Muppet Babies, memory lane has become more of an interstate highway than a quiet side street. For 3 days only, we are taking entries for our new giveaway featuring some of the most fun retro toys and items of the late 80s and 90s pop culture! Forget those Fidget Spinners and slap back into serious fashion with one of several retro Slap Bracelets included. Not into girly garb? How about a game of catch with those pink and green, velcro paddles. Trust us, you don't need to rely on hand eye coordination or be the picture of athleticism to have a toss with a friend!
Ok, ok...how to WIN! We put together a couple videos to tell you all of these things. Or, if you're sitting in your cubicle right now, totally vegging instead of smiling and dialing and need to just read the deets - they're listed at the bottom of this blog. Now hurry up and do the homework we're giving you so you can be entered to WIN THIS STUFF! **DAILY ENTERY ALLOWED**
What's in the prize pack? Watch THIS:
How do you win this stuff? Watch THIS: 
For you tolerant readers, here's how to enter and win!
1. TAG 3 friends in our pinned Muppet Babies video (3 points) 
2. SHARE our pinned Muppet Babies video on your page or a friend's (5 points) 
3. Claim your points right here! http://gvwy.io/jumnchn