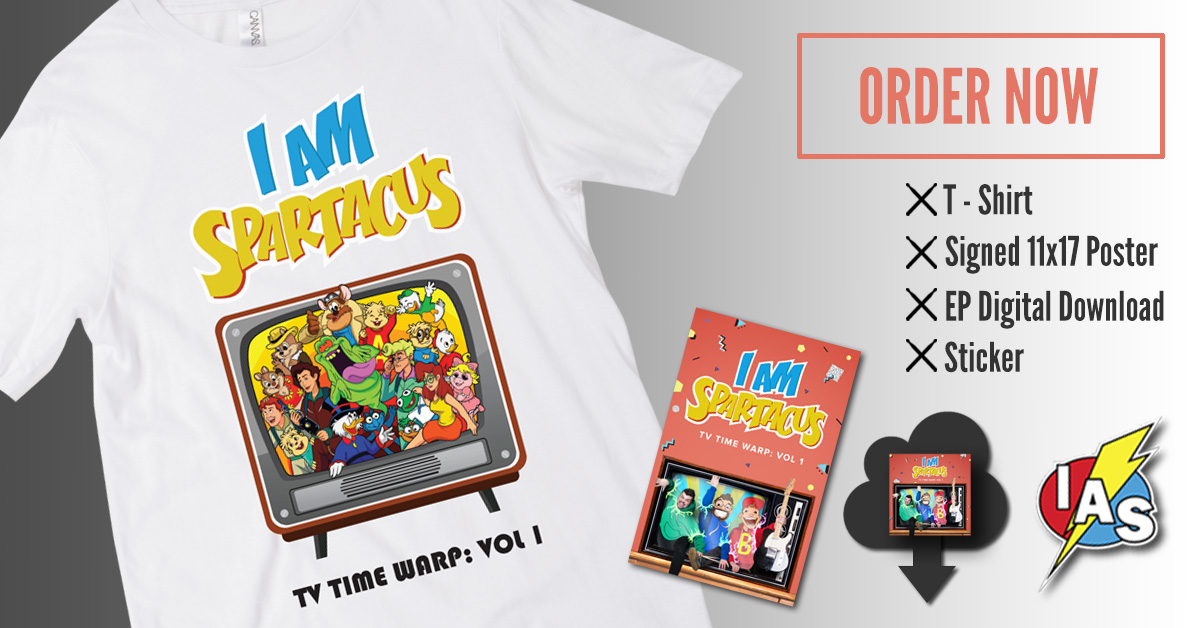 It can be said that life itself is made of memories. Well, we don't know about you, but it's a whole lot more fun to remember the good times! And for a whole of people, growing up in the 80's and 90's was THE LIFE! Crazy parachute pants and wind suits, slap bracelets and Ring Pops, and of course...Saturday morning cartoons!! 
As I Am Spartacus, we want to give you the only reason not to look at the back of your box of Lucky Charms. That's why we created a special limited edition, TV Time Warp Nostalgia Pack for you and all your friends. When you order this package, you'll get: 
A limited edition character t-shirt (with characters from all the theme songs we covered), a Rescue Rangers inspired IAS logo sticker, a signed 11x17 commemorative album artwork poster and, of course, a download code for the whole EP before its release on June 30th! 
I guess you could wait to hear 1 song a week until then...I mean, just because it's 2017 doesn't mean everything has to happen instantly right? But it CAN! Within 24 hrs after you finalize your order, you'll get an email from I Am Spartacus with your download code and the whole TV Time Warp: Vol 1 record is yours! So hurry up, click this link - THIS ONE >>>> https://iamspartacusband.com/store to visit our store, pick your shirt size and order away! Nostalgia waits for no one! [insert heroic cartoon music here] 
**All items listed will not be sold separately and will only be available as a special edition bundle while supplies last