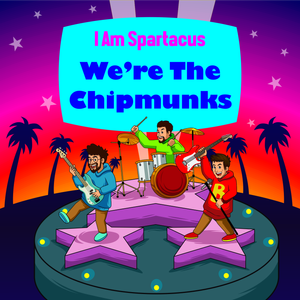 Alvin and the Chipmunks; the tiny trio has been featured in multiple hit TV series, graced the silver screen, and have even won GRAMMY's!! I Am Spartacus' version of the late 80's/early 90's adaptation, "We're the Chipmunks" goes big with giant synth riffs and rockin' guitars of the day. You're sure to sing a few "Do, Do, Do, Do, Do-DOO's" while you rock and roll down memory lane.
Check out the new song set to the original theme show intro HERE! If you love it, TAG a friend and SHARE!
The full EP - TV Time Warp: Vol 1 - featuring 5 iconic cartoon theme songs will be released on June 30. If you can't wait to get a copy, check out the TV Time Warp Nostalgia Pack in the store (https://iamspartacusband.com/store), and with your purchase you'll receive an advanced copy before the EP is even released! 
Make sure to follow I Am Spartacus on Facebook HERE and check our blog every week. We have TONS of new content and will be putting out a song from the EP every #throwbackthursday until the release. If you missed it, we released our version of the classic DuckTales theme song last week. You can see that video HERE.